"Baron is hands down the strongest, fastest, most dominant ever. Baron was just
just an amazing wiener dog. I mean, you could tell he was a wiener dog
when you looked at him, but he was just amazing. He was the most muscular I've
ever seen, and when he ran, he ate up yards and ground like it was nothing".
-Orlando Gutierrez, Los Alamitos Race Course (home to America's largest Dachshund race).
"Baron's an all-time great who's considered the greatest in the history of the sport.
The wiener racing equivalent of Muhammed Ali, Baron shredded his way through the
competition with such efficiency that he was retired against his will by race organizers".
-Shane MacDougall, director of the movie "Wiener Takes All: A Dogumentary"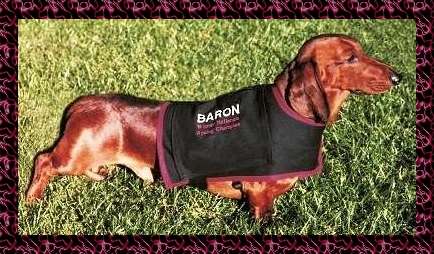 Undefeated Lifetime in Championship Racing
1999 Ultimate Match Race Champion
1998 Champion of Champions
1997 Wienernationals Champion
1997 Tonight Show Champion
1997 Holiday Bowl Champion



Baron Facts:


Born: November 24, 1992 - Passed Away: October 3, 2010
Size: A 34 pound whopper
AKC Name: CarrDox Bear Mountain Baron
Pedigree: 22 Show and Field Trial Champions
Favorite Activities: Sleeping, Running, Playing, Eating
Speed: 50 yards in 4.22 seconds, faster than fastest human